Investment and sustainability are thus far seen as two separate worlds. This is probably also due to the very different motives behind each: while those questioned regarding financial investments usually name related motives such as securing their own assets, when it comes to sustainability the focus is on the effects of their actions. on the environment and society. An automatic understanding of sustainability is shaped primarily by environmental aspects, much more than by social factors or responsible corporate governance. When it comes to financial investments, classic savings goals continue to dominate, such as the desire for returns and security in terms of investment motives for accumulating assets and providing retirement.
Few believe in the impact of their investments on companies
So far, it has not been widely known that investing one's money can promote a change in the economy towards more sustainability. The EU also wants to use financial markets to promote a more sustainable approach to businesses. However, only 13 percent of those surveyed believe that their investments can affect the management and business practices of companies.
When it comes to promoting sustainability, respondents primarily see industrial companies (84%, multiple answers) and politicians (83%) as responsible, as well as themselves as consumers (82%). Financial service providers (55 percent) appear to be far less important. Consumers often seem unaware that investing can be part of their sustainability efforts. In a sectoral comparison, they see an urgent need for action to boost sustainability in the areas of energy (78 percent), traffic, transportation and industrial production (76 percent each, multiple answers), but at least in financial services with only 34 percent of the answers .
Many people do not seem to realize that the financial sector must also contribute to sustainable transformation. Because this can only work if politics, business, and society work together. The economy needs sustainability and sustainability financing. "It is important to design the regulatory framework in such a way that it can have a broad impact," says Hans-Joachim Reinke, CEO of Union Investment.
Information and advice is changing attitudes towards sustainable investments
At first glance, the results of the survey do not seem to indicate a great potential for sustainable investments in the German market. However, the picture changes dramatically after respondents receive more information about sustainable financial investments. On this basis, nearly half of respondents (47 percent, the aided survey) believe that financial investments and sustainability go well together. And 32 percent of informed respondents – a 22 percentage point increase over the original share – now say they want to pay attention to sustainability when choosing financial investments. Of those surveyed, 41 percent were convinced they could boost sustainability through capital investments. Additionally, the information ensures a more differentiated understanding of sustainability. In addition to environmental aspects such as climate and environmental protection (77 percent, multiple answers), respondents now also see social and fair production conditions (43 percent) and responsible corporate governance (38 percent) as elements of sustainability.
This change in attitude towards sustainable investments as a result of more information, which was identified as part of the study, underscores the great need for investor advice on this topic. "Advice is critical for widespread acceptance and dissemination of sustainable financial investments. As a result of the Sustainability Preference Survey that will be mandatory in investment advice from August, more people will engage with sustainable investments and realize that sustainability is much more than the environment," says Reinke.
Sustainability is more related to prosperity than well-being
Aligning financial investments and sustainability should also be easy for savers because aspects of sustainability are often part of their concept of prosperity. When asked what they think is part of being thriving or a good standard of living, respondents mostly mentioned physical aspects such as freedom from financial worries (69 percent) as well as sustainable aspects such as social peace and social justice (60 percent). So does healthy nature (56 percent). In contrast, for only 14 percent, prosperity includes possession of luxury goods such as cars, watches or expensive jewelry.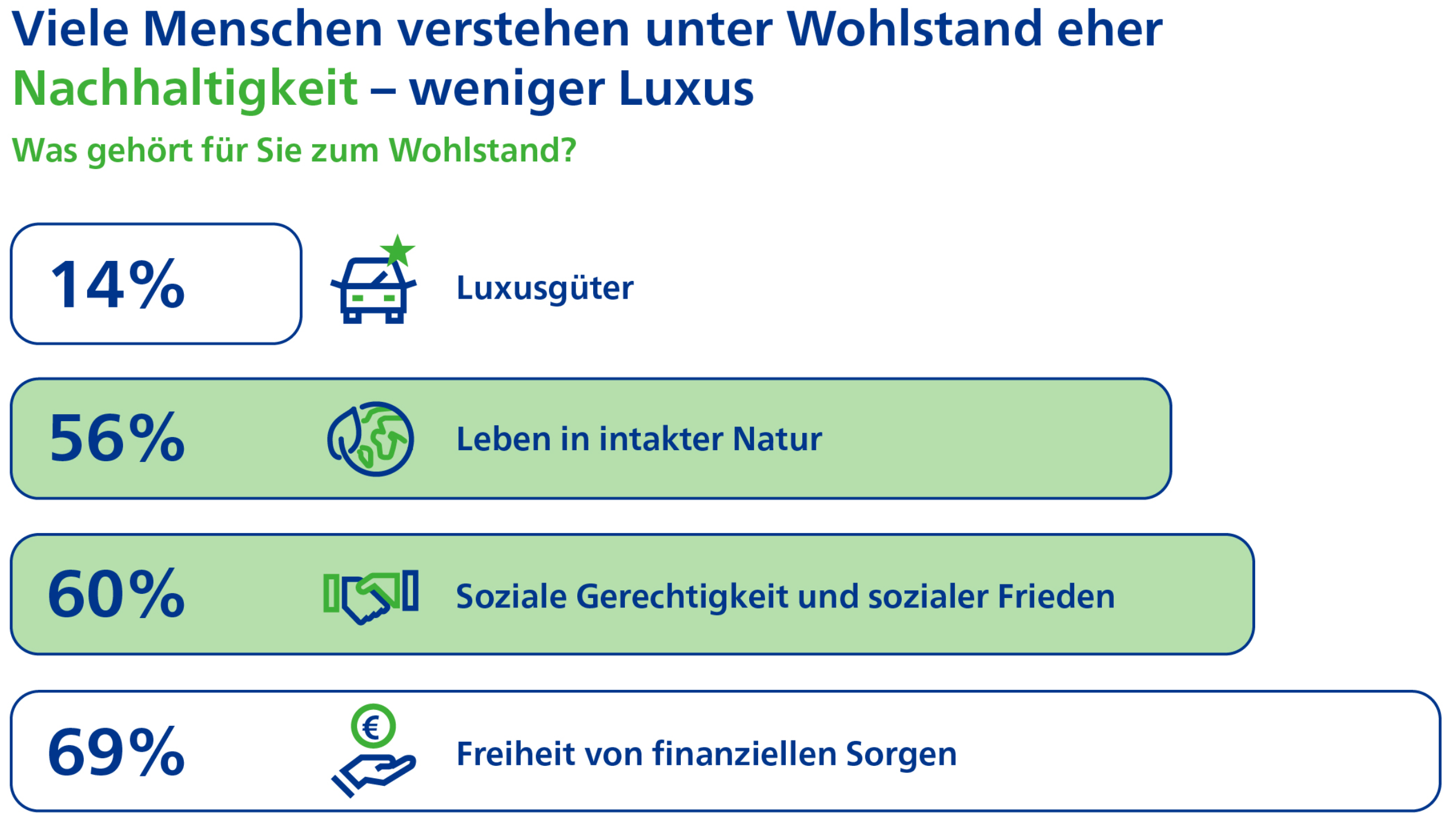 Many people understand prosperity as sustainable
Two-thirds (66%) see their prosperity as threatened by climate change. More than half of those surveyed (51 percent) believe that pursuing sustainability can boost prosperity. The opposite view is held by 24 percent of those who see sustainability as a threat to prosperity.
In the case of financial investments, sustainability is often feared as a decline in returns and security. Only 35 percent and 30 percent associate sustainable investments with good returns and security. On the other hand, most respondents consider sustainable investments to be innovative (66 percent), likeable (64 percent) and effective (58 percent).
"Sustainability criteria complement classic stock analysis and help to better assess potential risks. They also help identify particularly future-proof companies. Thus, concerns about returns and security can usually be dispelled by a structured discussion of sustainable investments," explains Reinke.
Study information
For the study, 3,500 ordinary individuals aged 18 and over were interviewed in Germany who own investments (stocks, funds, ETF, certificates) or plan to buy them in the next 12 months and have a net family income of 1,500 euros or more. . The survey was conducted by the Rheingold Institute from the fourth quarter of 2021 until the end of the first quarter of 2022. The results were validated and confirmed by a supplementary follow-up survey in March 2022 on the occasion of the war in Ukraine. The study is representative of the population in this group.
Past performance results do not allow any conclusions to be drawn about the future development of an investment fund or security. The value and income from investing in funds or securities may go down or up. Investors may only pay less than the invested capital. Currency fluctuations may affect investment. Please note the regulations on advertising and stock offering in InvFG 2011 §128 ff. The information on www.e-fundresearch.com does not constitute recommendations to buy, sell or hold securities, funds or other assets. The information on e-fundresearch.com AG has been carefully prepared. However, there may be inadvertently false representations. Therefore, no responsibility or guarantee can be assumed for the subject matter, correctness or completeness of the information provided. The same applies to all other sites referenced via hyperlinks. e-fundresearch.com AG disclaims any liability for direct, specific or other damages arising in connection with the information provided or other information available. NewsCenter is a private, paid form of advertising from e-fundresearch.com AG for asset management companies. The copyright and sole responsibility for the content rests with the asset management company as the user of a special form of advertising on NewsCenter. All News Center notifications are press releases or marketing communications.